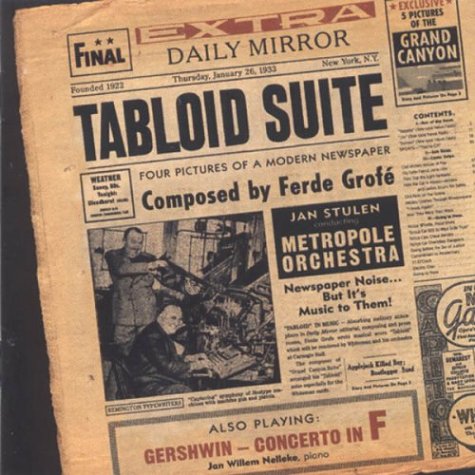 SOB SISTERS FEATURED
IN 1932 TABLOID SUITE BY FERDE GROFE
Now Available on CD
Jan Stulen conducting the Metropole Orchestra
Basta 30-1119-2 - Made in the Netherlands
Tabloid Suite: Four Pictures of a Modern Newspaper composed by Ferde Grofe in 1932 created something of a sensation. The New York Mirror on Jan. 14, 1933 featured this headline: "Newspaper Noise…But It's Music To Them." "The work evokes the busy razzmatazz of a big-city paper. Typewriter in opening movements, sirens in the final movement…Absorbing auditory atmosphere in Daily Mirror editorial, composing and press rooms…" The New York Times headlines on Thursday, Jan. 25, 1933: "Tabloid's Furor Is Set to Music." "Typewriters Click and Pistol Shots Bark to Whiteman Baton at Premiere." "Staid Patrons Startled." The story began, "Newspaper office color and atmosphere...Four typewriters, a revolver, a machine-gun, an emergency wagon siren, a policeman's whistle and the clack of telegraph keys were used for realism."
The following "Tabloid descriptive notes" were written in 1932 by George Clark, then the City Editor of the New York Daily Mirror:
Picture No. 1: Run of the News (3:31).
Typewriters chant the rhythm of the news…chatter, chatter, cackle, clatter…High tragedy reaches boldly for the headlines or bright joy comes to a dreary life….Chatter, clatter -- and sorrow sweeps a slow veil over a stricken household. Death calls for a great man -- the teletypes click out the story…..A reporter calls -- and the typewriters sing a wedding march….A mother pleads for a hungry child, or a thoroughbred race-horse flashes past for a new championship. Chatter, chatter, crackle, clatter -- it's all in the run of the news.
Picture No. 2 – Sob Sister (5:23).
She should have been a movie queen -- but she isn't…She wouldn't mind trading places with the female murderess she has just interviewed, and other people's babies tug at her heart-strings. She wants no favors from bosses, cops, or undertakers -- but she reserves the right to cry in private….Here is the heart which aches with all hearts that are broken and hers are the tears that are shed for the sorrows of all the world -- yet she laughs at tears and hates broken hearts…Sometimes she likes to laugh derisively at everything, everything; but she doesn't mean it. And hers is the high intent of boundless ambition, taking her nowhere -- but, that intent colors the whole game with the purity of purpose which is its sanctification….And sometimes her sobs are real.
Picture No. 3 – Comic Strip (3:11).
Mickey Mouse at a frat dance; or, a managing editor with a favorable circulation report….Mickey Mouse and Minnie the Moocher, with a fol-de-rol-dol and a heigh-di-ho, and a rah-rah-rah for Clara Bow!…Mickey Mouse and a carload of cheese for a jamboree and a Felix Cat behind the door…Oh, and who spoiled the party? Was it Felix Cat -- or only the publisher!
Picture No. 4 – Going to Press (7:38).
Murder headlines sell newspapers, says the editor…Murder to the time of a machine-gun in a Ghetto street at sun-down, and with the radio squad cars coming at seventy-miles-an-hour….But, sometimes, Justice triumphs -- and then there's the long last mile at Sing Sing, with the little green door -- which isn't green at all -- at the end of a stone corridor, and the electric chair beyond, while newspaper presses wait for the bulletin-flash that's it's all over. So long, warden, you're a regular guy….Goodbye, youngster -- come, this way -- it won't take long….Hm, you're telling me! And as the dynamos sing their solo the presses begin to rumble in a far-off basement spewing forth headlines of amazed horror…Justice Triumphs! -- to the threnody of the presses' roar!