THE IMAGE OF THE GAY JOURNALIST
IN MOVIES AND TELEVISION
1929-2009
Special Supplement:
The Image of the Gay Public Relations Practitioner
in Movies and Television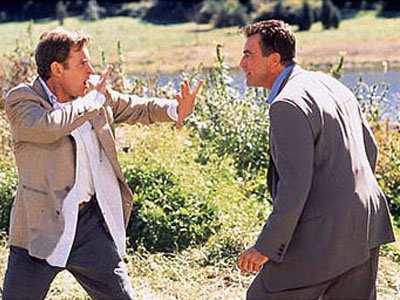 THE 2009 IJPC ASSOCIATES PREMIUM DVD
4:42:23 – 123 clips -- Mp4 Files Available on IJPC Hard-Drive
Produced by Joe Saltzman
Edited by Lee Warner
The Image of the Gay Journalist in Movies and TV
1929 to 1995– 44 clips – 1:36:14
The Image of the Gay Journalist in Movies and TV
1996 to 2004 – 39clips – 1:32:14
The Image of the Gay Journalist in Movies and TV
2005-2009 – 32clips – 1:33:55


This IJPC video compilation for IJPC Associates runs 4:42:23 and contains 123 movie and television clips tracing the image of the gay journalist in films and television from 1929 to 2009.

This video can be used in a variety of ways. It is the perfect introduction to any communications class on the image of the gay journalist in popular culture. It could be used in any class on history, media, ethics, communication studies or any class discussing the role of the gay journalist.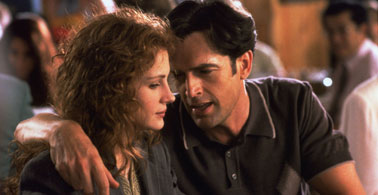 * * *
In analyzing more than 125 films and TV programs, we discovered that the gay journalist is often ridiculed and used as a comic figure whose stereotypical gay characteristics are a source of either derision or buffoonery.1 The majority of serious gay journalists in most of the 20th century are usually bitchy columnists 2 or bitter critics 3 whose devastating one-liners can reduce anyone to tears or anger.4 They have great power, but usually by the last reel continue on their merry way, or are defeated or even murdered. The same is true with reporters overly concerned about doing their job well and less about the perception around them that they are gay.5

By the late 1980s, being gay was often acknowledged in one way or another.6 Many plots involved the growing AIDS epidemic 7 or the problem of being outed as a gay 8 or the problems of being gay in any society.9 Interestingly enough, most of the sensitive portrayals of gays in the cinema involve films made outside the United States. With the exception of India,10 whose stereotypes of gay characters seem to be a staple of Bollywood, films made in France,11 Italy12, Poland 13, Hungary,14 Egypt,15 Germany,16 Japan,17 Hong Kong,18 Canada,19 and the United Kingdom 20 are extremely sensitive and moving portrayals of both male and female gay characters.

As the 20th century came to a close and continuing in the 21st century, gay journalists are accepted as being gay and often their gayness figures prominently in the plot.21 For some reason, 1997 turned out to be a seminal year previewing the next century's portrayal of gays. Rupert Everett's gay British editor in My Best Friend's Wedding and Tom Selleck's tabloid reporter in In & Out were characters the audiences accepted with affection. But even as film after film featured fully realized gay characters, the ridicule of stereotypical gay characteristics continued in films 22 as recently as He's Just Not That Into You in 2009.

Surprisingly, television programs featuring gay journalists provided far more sensitive portrayals of gay characters.23 Individual episodes of Night Court 24, Murphy Brown, Queer as Folk, 25 Dirt, Veronica Mars 27 and The Nanny, and continuing characters in such shows as Ugly Betty 28, Frasier, 29 Da Ali G 30 and The L Word 31 showed gay journalists who were not afraid or embarrassed to be gay.32 And the gay journalist in The L Word even gets her own series in 2010.

The gay journalist turns up in all forms of film genres, including horror films, 33 action films, 34 sci-fi and supernatural films, 35 detective films, 36 cartoons 37 and comedies.38 There's a Ph.D. thesis to be written on the image of the journalist in soft and hard-core adult films and the image of the gay journalist is no exception. All of the stereotypes associated with gays and journalists can be found in soft-core or hard-core pornography featuring gay journalists.39

It can also be concluded that lesbians are generally treated more favorably in films and TV than gay men. With the exception of the female, who displays male characteristics and is constantly ridiculed and assaulted in films, 40 lesbians with feminine characteristics are among the most favorable images of gay journalists in films and TV. 41

Some of the more serious films dealing with gays show the influence of parental approval or disapproval on the gay journalist.42 It is easier for the female to win approval of her lifestyle than the male. Often the male gay journalist is an outcast not only to his family, but also to his fellow workers.43

Public Relations Practitioners display all the characteristics of the image of the public relations practitioners as well as the image of the gay journalist in popular culture. They exhibit all of the stereotypical gay characteristics, 44 they can be ruthless in their pursuit of power, 45 and they often are accepted as being gay and frequently their gayness figures in the plot.46

The image of the gay journalist in films and TV is a varied collection of males and females whose sexuality is a primary factor in the plot and character development. They often have close friends of the opposite gender, they exhibit bright minds and devastating one-liners, they seem to be always looking for that significant other and seldom finding him or her, and many seem to have an enormous reservoir of understanding for people who don't understand the concept of being gay. More often than not, they appear in comedies. When they appear in dramas, it is usually heavy going involving prejudice, illness and sometimes violence. Gay journalists seem to fare better than other gay characters, possibly because of their sense of humor, their wit and ability to lose themselves in the stories they are working on.

* * *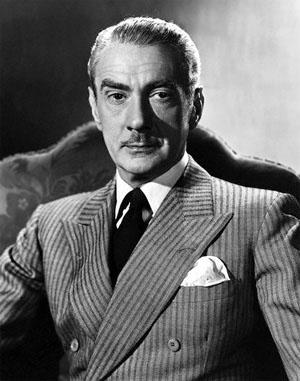 The video is for personal use only and is available only to IJPC Associates. It is not available anywhere else.

NOTE: There is some profanity and nudity in this video. Please screen privately before showing it to your class. For specific information on each film or TV program, check "The Image of the Gay Journalist Bibliography" available on ijpc.org, or the 2009 IJPC Database.
1929-1995 – 1:36:14 – 44 clips
1929 – The Desert Song
1929 – Big News
1931 – The Front Page
1939 – Café Society
1940 – His Girl Friday
1944 – Laura
1946 – House of Horrors
1948 – The Velvet Touch
1950 – All About Eve
1954 – A Star Is Born
1968 – Laura
1968 – The Legend of Lylah Clare
1970 – Trader Hornee
1971 – Women in Revolt
1974 – The Front Page
1974-1975 – Kolchak: The Night Stalker
1975 – Death Race 2000
1976 – Emanuelle in Bangkok
1976 – Emanuelle in America
1977 – Emanuelle Around the World (Emanuelle – Perche violenz alla donne?)
1977 – Barbara Broadcast
1977 – A Special Day (Una Giornata Particolare)
1980 – Without Love (Bez Milsoci)
1982 – Another Way (Egymasra nezve)
1982 – Evil Under the Sun
1982 – Tenebre
1985 – Kiss of the Spider Woman
1985 – St. Elmo's Fire
1986 – Rockabye
1988 – Die Jungrauenmaschine (Virgin Machine)
1988 – A corps perdu (Straight for the Heart)
1989 – Paprika
1989-1992 – Anything but Love
1989 – Night Court: Passion Plundered
1990 – Cop Rock: "Cop-a-Feeliac"
1991 – An Inconvenient Woman
1992 – The Other Woman
1992 – The Living End
1993 – Love & Human Remains
1993-2004 – Frasier
1994 – Ready To Wear (Pret-A-Porter)
1995 – Thin Ice
1995 – Muscle
1995 – Live Shot: "Decisions, Decisions"
1996 -2004 – 1:32:14 – 39 clips
1997 – My Best Friend's Wedding
1997 – In & Out
1997 – Hong Kong Night Club (Hon Kon daiyasokai: Tatchi & Magi)
1997 – David Searching
1998 – Homo Heights
1998 – Crocodile Tears
1998 – Gods and Monsters
1998 – Velvet Goldmine
1998 – Life of a Gigolo
1998 – High Art
1998 – The Object of My Affection
1999 – Aimee & Jaguar
2000 – Strangers With Candy: "Ask Jerri"
2000 – Erotic Witch Project 2: Book of Seduction
2001 – Kissing Jessica Stein
2001 – City Lust
2001 – Some of My Best Friends
2001 – Friends and Family
2001 – All Over the Guy
2001 – The Map of Sex and Love (Qingse ditu)
2001 – A Family Affair
2002 – Greg the Bunny: "Surprise!"
2002 – Chaos and Desire (La Turbulence Des Fluides)
2002 – Queer as Folk
2002 – Fixing Frank
2002 – The Trip
2003 – The Far Side of the Moon (La face cachee de la lune)
2003 – The Hole
2003 – South Park: "South Park Is Gay!"
2003-2004 – Da Ali G
2003 – Goldfish Memory
2003 –Jeepers Creepers II
2004 – Cold Case: "It's Raining Men"
2004 – Kis Kis Ki Kismat
2004 – 13 Going on 30 (aka Suddenly 30)
2004 – Will & Grace: "Company"
2004 – A Home at the End of the World
2004 – American Crime
2004-2009 – The L Word
2005-2009 – 1:33:55 – 32 clips
2005 – Pretty Persuasion
2005 – Looking For Cheyenne
2005 – Where the Truth Lies
2005 – Third Man Out
2005 – Capote
2006 – Infamous
2006 – Yacoubian Building (Omaret Yakobean)
2006 – Mom (Big Dreams in Little Hope)
2006 – In Her Line of Fire
2006 – Mary Carey for Governor
2006 – Cannibal Taboo
2006 – Bulldog in the Whitehouse
2006 – Whispering Moon (Das Flustern des Mondes)
2006 – Boys Love
2006 – Love Monkey
2006 – Dirty Laundry
2006 – Saturday Night Live: "Lesbian Reporter"
2006 – Veronica Mars: "Versatile Toppings"
2006 – The Devil Wears Prada
2006-2009 – Ugly Betty
2007 – Dirt: Ita Missa Est
2007 – And Then Came Love
2007 – Breakfast With Scot
2007 – The DL Chronicles
2007 – Race You to the Bottom
2007-2009 – The Lair
2008 – He Kills Coppers
2008 – April Fool's Day
2008 – Dostana
2008 – Milk
2009 – He's Just Not That Into You
2998 – Bruno
THE IMAGE OF THE GAY PUBLIC RELATIONS PRACTITIONER
IN MOVIES AND TELEVISION 1992-2007 – 8 clips
1992 – Murphy Brown: "Come Out, Come Out, Wherever You Are"
1995 – The Nanny: "Oy Vey, You're Gay"
1998 – Primary Colors
1999 – Queer As Folk UK
2001 – Sex and the City: "Defining Moments"
2001 – Amy's Orgasm (Amy's O)
2005 – Miss Congeniality 2: Armed & Dangerous
2007 – The Life and Times of Vivienne Vyle
ENDNOTES:
1 The Desert Song (1929). The Front Page (1931), His Girl Friday (1940), The Front Page (1974),
2 Café Society (1939)
3 Laura (1944), House of Horrors (1946), The Velvet Touch (1948), All About Eve (1950), A Star Is Born (1954), Laura (1968), The Legend of Lylah Clare (1968), Evil Under the Sun (1982), An Inconvenient Woman (1991).
4 Women in Revolt (1971).
5 Death Race 2000 (1975). Rockabye (1986), Ready to Wear (Pret-a-Porter, 1994).
6 St. Elmo's Fire (1985), Thin Ice (1995), David Searching (1997).
7 The Living End (1992), Crocodile Tears (1998), The Trip (2002), Cold Case: "It's Raining Men" (2004).
8 Live Shot: "Decisions, Decisions" (1995)
9 Kiss of the Spider Woman (1985)
10 Kis Kis Ki Kismat (2004), Dostana (2008). Image of the Gay Journalist in Movies and TV 7
11 Chaos and Desire (La Turbulence Des Fluides, 2002).
12 A Special Day (Una Giornata Particolare, 1977), Tenebre (1982)
13 Without Love (Bez Milsoci, 1980),
14 Another Way (Egymasra nezve, 1982)
15 Yacoubian Building (Omaret Yakobean, 2006).
16 Virgin Machine (Die Jungrauenmaschine, 1988), Aimee & Jaguar (Aimee and Jaguar, 1999), Whispering Moon (Das Flustern des Mondes, 2006).
17 Hong Kong Night Club (Hon Kon daiyasokai: Tatchi & Magi, 1997), Boys Love (2006).
18 The Map of Sex and Love (Qingse ditu, 2001).
19 Straight for the Heart (A corps perdu, 1988), The Far Side of the Moon (La face cachee de la lune, 2003).
20 He Kills Coppers (2008).
21 Velvet Goldmine (1998), High Art (1998), The Object of My Affection (1998), Kissing Jessica Stein (2001), All Over the Guy (2001), A Family Affair (2001), Fixing Frank (2002), Goldfish Memory (2003), 13 Going on 30 (2004), A Home at the End of the World (2004), American Crime (2004), Pretty Persuasion (2005), Where the Truth Lies (2005), Third Man Out (2005), Capote (2005), Infamous (2006), Dirty Laundry (2006), The Devil Wears Prada (2006), And Then Came Love (2007), Breakfast With Scot (2007), Race You To the Bottom (2007), April Fool's Day (2008), Milk (2008).
22 Homo Heights (1998), Gods and Monsters (1998), Friends and Family (2001), Jeepers Creepers II (2003), Saturday Night Live: "Lesbian Reporter" (2006).
23 Anything But Love (1989-1992), Cop Rock: "Cop-a-Feeliac" (1990), Muscle (1995), Strangers with Candy: "Ask Jerri" (2000), Some of My Best Friends (2001), Greg the Bunny: "Surprise!" (2002), Cold Case: "It's Raining Men" (2004), Will & Grace: "Company" (2004). Love Monkey (2006), The DL Chronicles (2007), The Lair (2007-2009).
24 Night Court: "Passion Plundered" (1989).
25 Queer as Folk (American Version, 2002).
26 Dirt: "Ita Missa Est" (2007). Guest star Jennifer Aston is bisexual fashion editor.
27 Veronica Mars: "Versatile Toppings" (2006)
28 Ugly Betty (2006-2009): Marc St. James (Michael Urie) works for Mode magazine
29 Frasier (1993-2004): Gilbert "Gil" Leslie Chesterton is a food critic.
30 Da Ali G (2003-2004) features Bruno (Sacha Baron Cohen), the gay, campy, shallow fashion correspondent for an Austrian show.
31 The L Word (2004-2009): Journalist Alice Pleszecki (Leisha Hailey).
32 Kolchak: The Night Stalker (1974-1975)
33 Jeepers Creepers II (2003).
34 Death Race 2000 (1975), In Her Line of Fire (2006).
35 Erotic Witch Project 2: Book of Seduction (2000), The Lair (2007-2009).
36 Third Man Out (2005).
37 South Park: South Park Is Gay! (2003).
38 Kissing Jessica Stein (2001), A Family Affair (2001). Hong Kong Night Club (Hon Kon daiyasokai: Tatchi & Magi, 1997). The Devil Wears Prada (2006).
39 Trader Hornee (1970), the Emanuelle Series (Emanuelle in Bangkok, 1976; Emanuelle in America (1976), Emanuelle Around the World (1977), Black Emanuelle (1977), Barbara Broadcast (1977), Paprika (1989), The Other Woman (1992), Life of a Gigolo (1998), Erotic Image of the Gay Journalist in Movies and TV 8 Witch Project 2: Book of Seduction (2000), City Lust (2001), The Hole (2003), Mary Carey for Governor (2006), Cannibal Taboo (2006), Bulldog in the White House (2006).
40 Big News (1929)
41 Love & Human Remains (1993), High Art (1998), Kissing Jessica Stein (2001), A Family Affair (2001), Goldfish Memory (2003), Looking for Cheyenne (2005), Mom (Big Dreams in Little Hope, 2006). In Her Line of Fire (2006).
42 Kissing Jessica Stein (2001), A Family Affair (2001).
43 Race You to the Bottom (2007).
44 Miss Congeniality 2: Armed & Dangerous (2005).
45 Queer as Folk (United Kingdom, 1999), Primary Colors (1998), The Life and Times of Vivienne Vyle (2007).
46 Murphy Brown: "Come Out, Come Out, Wherever You Are" (1992), The Nanny: "Oy Vey, You're Gay" (1995), Sex and the City: "Defining Moments" (2001), Amy's Orgasm (2001